Below are the horses and ponies currently offered for sale. Please inquire with Nori directly for more information, to set up a trial, or to discuss sales opportunities.
Arteo
10-year-old 16.2h Czech Warmblood Gelding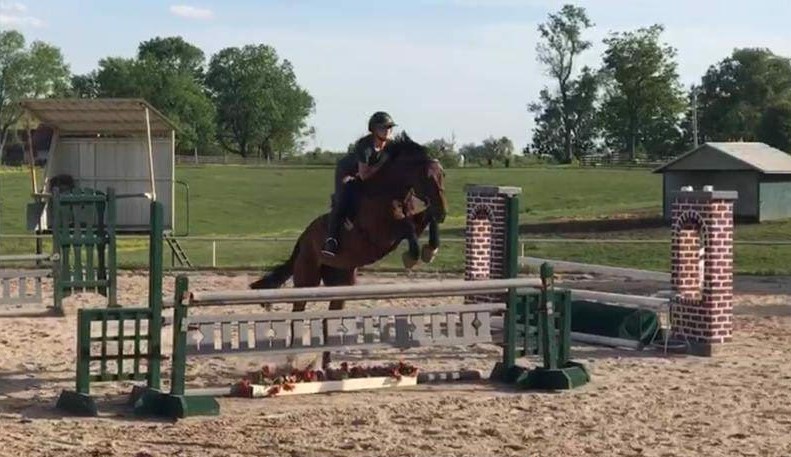 Arteo will make an excellent jumper/equitation partner for a junior or amateur on a budget. Since arriving in the US in 2022, he has shown locally in lower level jumpers and been used in advanced lessons, and has schooled up to 3'6" with ease. He is ready for his own person to take up the levels in the jumper or equitation rings.
Price: Low-Mid Fives
---
Farnley Silk Ribbon "Silky"
15-year-old 14.1h Half Welsh Pony Mare
Silky is a well-rounded half Welsh pony mare from the Farnley line. She has produced a beautiful Welsh foal who is currently a yearling, and she is open to breed for 2023. She is broke to ride and drive and has been shown as a driving pony.
Price: Lowest Fives; Breeding Lease Option
---
Jethro
6-year-old 14h Grade Pony Gelding
Jethro is a green but willing pony. He is currently WTC and jumping small courses. He is great on trails alone or with company, and would make a great Pony Club mount or hilltopper/foxhunter.
Price: High Fours
---
Long Run's Close Call "Biscuit"
16-year-old 11.1h Welsh Pony Mare
Biscuit is a registered Section B Welsh pony mare who has been used in the Scheffelridge breeding program for several years. She is an easy breeder and has produced several lovely foals, and consistently throws color and correctness. Biscuit is also broke to ride and has been used in lessons.
Price: High Fours; Breeding Lease Option
---
Penelope
11-year-old 15.2h Hanoverian/Thoroughbred Mare
Penelope had a late start in life but has a good foundation on the flat and over fences and competed up to the 3ft hunters before she was purchased as a broodmare to produce Welsh pony cross foals. She has potential to go in any direction as a riding horse or continue as a broodmare.
Video
Price: Low Fives
---
Pippin
6-year-old 13.2h Grade Pony Gelding
Pippin is a hunter type prospect with great potential to be a solid all around jack of all trades pony. He is currently WTC and jumping small courses, and would make a great project for a junior or amateur.
Price: High Fours
---
Rooney
4-year-old 16h Thoroughbred Gelding
Rooney is an unregistered Thoroughbred gelding by Kitten's Joy. He never trained or raced, and has been well started as a hunter prospect. He has three lovely and balanced gaits, is jumping small courses, and has a green lead change. Rooney is incredibly willing with a great brain and has even been used in intermediate lessons.
Flat Video
Jumping Video
Price: Low Fives
---